God has given us all so many gifts! The Saints in Heaven, who are praying for us, are our advocates.  They are special friends who love us and want us to go to Heaven.  The Saints are a true gift from God.
This Saint of the Month Club is a celebration of our friendship with the Saints.  It's faith-filled encouragement and inspiration for boys and girls, ages 5 through 11 years old.  It's a helping hand for Parents, Grandparents, Godparents and anyone who wants to assist a child in growing in their love of Jesus and His Church.
A monthly Saint of the Month Club package is delivered right to the door.  All kids enjoy getting a gift in the mail!  Each month we prayerfully create and select items that encourage a fun and interactive journey with a special Saint.  Children will be inspired by this gift to live out their faith through prayer, action, and creativity.  You can help a child grow in holiness and join THE CLUB we all want to be a part of!

What you get each month with a TRU Saint of the Month Gift:
Prayer Leads Us to Holiness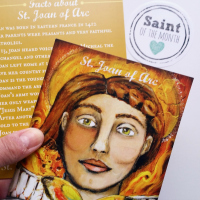 Each month your Saint of the Month Club gift will have 2 Holy Cards. On one card your child will have a prayer that I've written which asks for the intercession of the Saint of the month. The second card offers quick facts about the Saint, which compliments the Saint Story and makes a really fun learning tool.  These Holy Cards are a heavy cardstock with a satin finish. They measure 4×51/2″ so they are perfect for little or big hands!
Faith in Action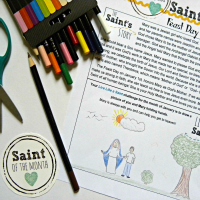 Included each month is also a Saint of the Month story.  This short story helps your child to get to know the Saint and what virtues made them Holy.  Underneath the story is a Live Like a Saint, faith in action challenge, which gives your child the opportunity to understand and demonstrate how their lives can be holy and make a difference in the world around them.
Creativity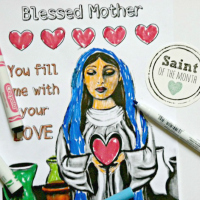 A beautiful, TRU custom designed coloring page is included in each Saint of the Month Club gift.  This coloring page is on a heavy stock paper which makes it suitable for framing or as to give as a keepsake.  The details on this coloring page are terrific and will help your child know they are truly artistic.
Treasure Your Faith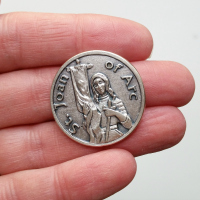 In each Saint of the Month Club gift, children will receive a special coin, medal, medallion, or token.  This special item can be blessed by a Priest and become a Sacramental.  This sacramental can be worn, carried, or hung as a reminder of our Faith and love of Jesus.  A sacramental is a special prayer, action, or object which, through the prayers of the Church, prepares a person to receive grace and to better cooperate with it.
Everyday Praise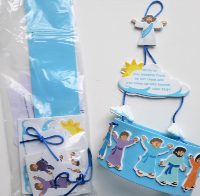 In order to continually  direct our desire towards Christ, we need constant reminders. Children need this daily encouragement too.  In each Saint of the Month Club gift, we will include something to assist them in their daily walk.  A special craft, book, CD or DVD will be just what they need to help them on their journey.

 Click on the circle to order your Saint of the Month Club Gift…