March Box is a visit from St. Thomas Aquinas!
This Saint of the Month Club wants to bring the love of the Saints into the homes of Catholic families by providing creative resources to boys and girls, ages 5 though 11 years old, which support parents in fostering a devotion and love of the Saints.

Take a peek at our featured gift items this month and order for as long as you would like: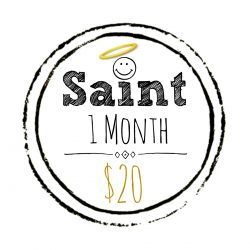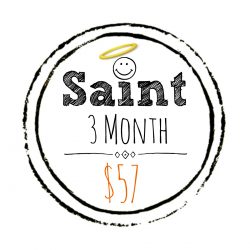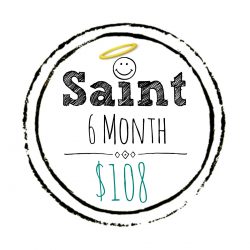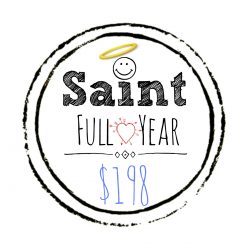 We prayerfully create artwork of the Saints and select items that encourage a fun and interactive journey with the Saint. Children will be inspired by this package to live out their faith through prayer, action, and creativity.

A Saint of the Month Club gift is an introduction to a different Saint and their story. What's included in a Saint of the Month box?
Holy and Quick Facts Cards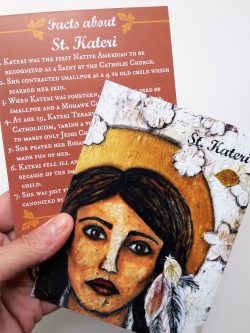 Each month your Saint of the Month Club gift will include 1 Holy Cards and 1 Quick Facts Card.  The Holy Card  shares a intercessory prayer to the Saint of the Month and the Facts Card compliments the monthly Saint Story. Both cards make really fun learning tools!  These cards are beautifully crafted, mini works of art and are printed on heavy cardstock with a smooth satin finish. They measure 4×51/2″ so they are perfect for collecting!
Saint Story and Virtue Challenge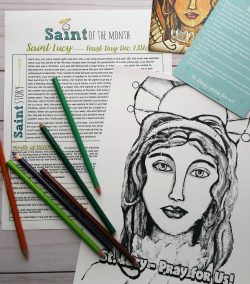 Included each month is a Saint of the Month Story.  This short story helps your child  get to know the life of the Saint.  Also included is a monthly Live Like a Saint challenge, which gives your child the opportunity to put their faith into action, learning that they can effect the world around them in a positive, faith-filled way!
Coloring Page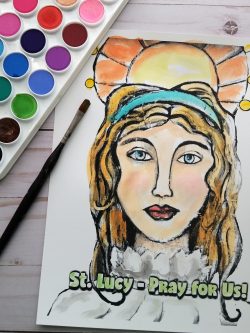 A beautiful, TRU custom designed coloring page is included in each Saint of the Month Club gift.  This coloring page is on heavy stock paper which makes it suitable for framing or makes a great gift for loved ones far away.  The details on this coloring page are terrific and will help your child know they are truly artistic.
 Treasure Your Faith Item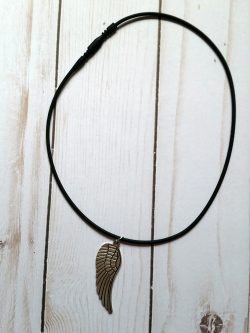 In each Saint of the Month Club gift, children will receive a special coin, medal, medallion, or token.  This special item can be blessed by a Priest and become a Sacramental.  This sacramental can be worn, carried, or hung on the wall as a reminder of our Faith and love of Jesus and the Saints.  A sacramental is a special prayer, action, or object which, through the prayers of the Church, prepares a person to receive grace and to better cooperate with it.
 Faith in Action Item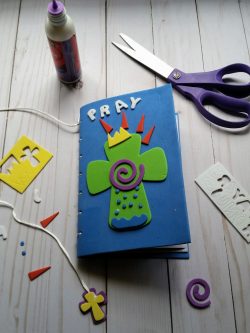 In order to continually  direct our desire towards Christ, we need constant reminders. Children need this daily encouragement too.  In each Saint of the Month Club gift, we will include something to assist them in their daily walk.  A special craft, book, CD or DVD will be just what they need to help them on their journey of faith.
Click on the circle to order your Saint of the Month Club Gift…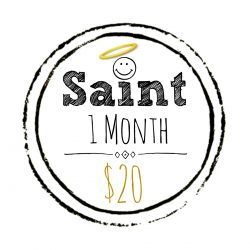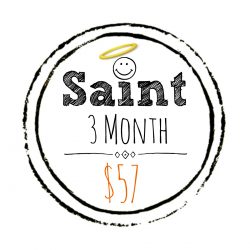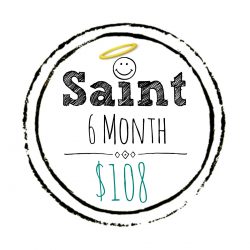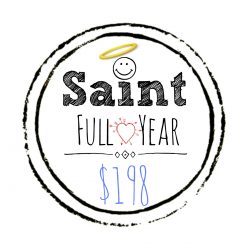 Connect over on our blog each month for additional resources and #Saintlove!